---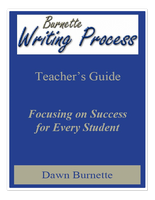 Burnette Writing Process
Take a two-minute tour of Burnette Writing Process!
Features of Burnette Writing Process:
For each writing assignment, students work on a few specific focus skills in the following categories: content, organization, style, conventions, format, and challenge.
Focus skills can be individualized to meet the needs of each and every student.
Innovative and interactive writing lessons help students to hone their focus skills and understand the complexities of writing.
For each final draft, students self-assess, reflect, and annotate to demonstrate their understanding of each focus skill.
Because students truly understand the skills, they continue to use them automatically even after moving on to new skills.
The use of focus skills and annotation almost completely eliminates plagiarism and other forms of academic dishonesty.
Teacher's guide includes focus skill descriptors, lessons for teaching different skills, reproducible rubrics and progress charts, and more.
Grading takes less time--while feedback is more meaningful--because teachers respond to and assess only the focus skills.
Sample:
View Burnette Writing Process Sample